Melbourne hospital evacuated after piling rig collapses onto roof
| 23.11,22. 02:34 PM |
Melbourne hospital evacuated after piling rig collapses onto roof
A piling rig has fallen onto the roof of Frankston Hospital in Melbourne. (9News)
A piling rig has collapsed onto the roof of a hospital in Melbourne's south-east, forcing hundreds of patients to evacuate the building.
No one was injured during the incident, with all patients, staff and site workers safely evacuated, according to the Department of Health.
The large piece of construction equipment, which is used for drilling, fell onto the roof of the hospital's psychiatric ward about 10am on Wednesday.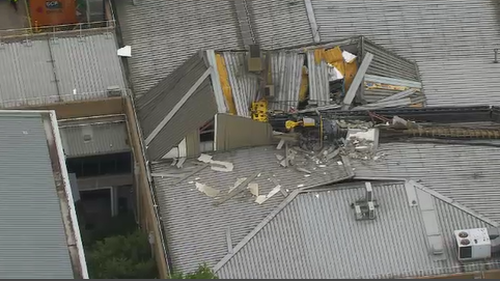 Firefighters were on the scene within five minutes to help with the evacuation.
Footage from 9News' helicopter shows the incident has caused significant damage to the building's roof.
The Department of Health has said around 30 in-patients will be relocated due to the damage.
Police, emergency services and WorkSafe Victoria are all at the scene and will investigate the extent of the damage and any immediate or longer-term impacts to patients and staff.