Anthony Albanese and billionaire Bill Gates meet to discuss climate change and health
| 22.01,23. 04:47 AM |
Anthony Albanese and billionaire Bill Gates meet to discuss climate change and health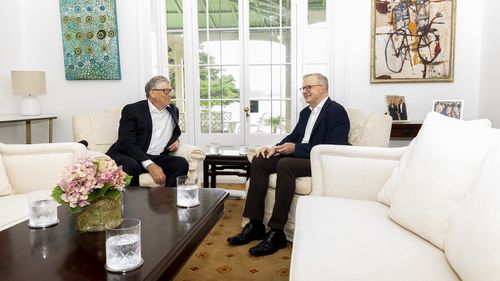 The pair talked about energy, climate change and the pandemic (SMH)
Prime Minister Anthony Albanese has met with billionaire Microsoft founder Bill Gates at his official residence.
The pair met at Kirribilli House in Sydney on Saturday morning to discuss sustainable energy, health and climate change.
Albanese used the opportunity to discuss the global energy transition with Gates, who founded Breakthrough Energy, a company that aims to improve sustainable energy options and reduce greenhouse gas emissions.
Before the meeting, the also duo highlighted the need for better future pandemic planning.
"I've admired your work and your contribution, not just financially, but in raising debates, including the need to deal with health issues," Albanese said.
"We've just been through the pandemic, but we need to prepare for future health challenges.
"The work that's being done on eradicating malaria and other diseases in our region is very important."
"As you say, the preparedness for the next pandemic is still a discussion that hasn't been figured out," Gates said.
"You know, malaria in the long run, we want to do the same thing we're doing with polio, which is eradicated regionally, and then eradicated all over the world."
In 2015, Gates famously predicted that the world wasn't prepared for a pandemic in a TEDTalk, years before COVID-19 hit, and has long campaigned to eradicate malaria.
The Gates Foundation, which has spent $USD53.8 billion since 2000, has the goal of creating a world free from the deadly disease.