Wanted notice issued for California mass shooting suspect
| 23.01,23. 07:26 AM |
Wanted notice issued for California mass shooting suspect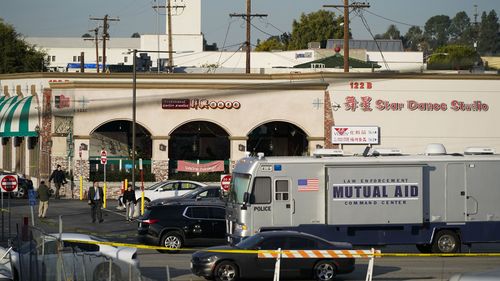 Authorities have condemned the shooting. (AP)
Photos of a suspected gunman have been released after 10 people were killed and 10 more injured in a mass shooting at a ballroom dance studio in California.
Five men and five woman were killed at the Monterey Park studio, their ages are unknown. The 10 injured victims were rushed to multiple local hospitals and their conditions ranged from critical to stable.
Sheriff Robert Luna said the suspect is believed to be an Asian male. A wanted notice issued early this morning (AEDT) by the sheriff's office showed a man of Asian appearance wearing a beanie and a coat.
The notice said the man should be considered armed and dangerous.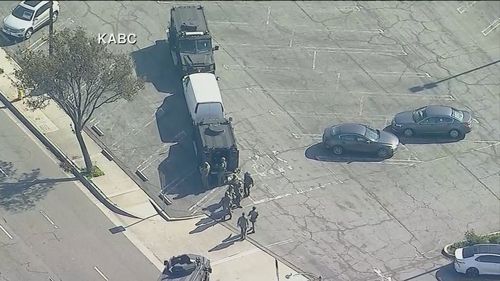 Multiple news sources including CNN have reported police are in a stand-off in a nearby parking lot in Torrance that is believed to be connected to the shooting.
A SWAT team has surrounded a white cargo van, ABC7 reported.
Luna said there was no known motive, but asked media "who walks into a dance hall and guns down 20 people?"
Police were called to the Star Dance Studio at 10.22pm Saturday (local time) after a major Lunar New Year festival was held in the city of about 61,000 people, which is 16km east of Los Angeles.
Captain Andrew Meyer of the Los Angeles County Sheriff's Department said first responders found people "pouring out of the location, screaming".
Investigators said multiple rounds were fired but they did not believe an assault weapon was used.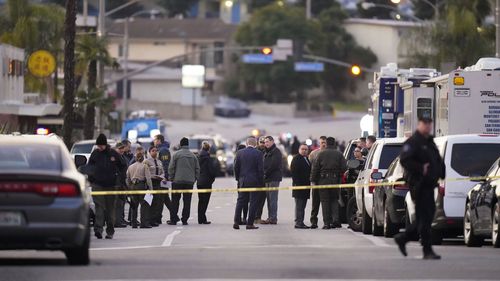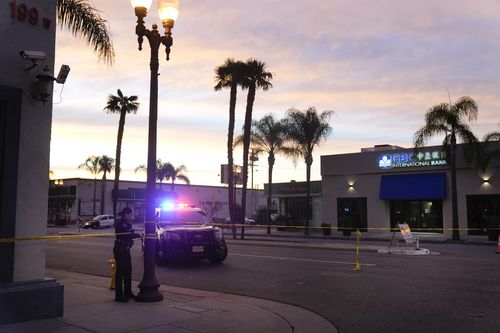 Seung Won Choi, who owns the Clam House seafood barbecue restaurant across the street from where the shooting happened, told the Los Angeles Times that three people rushed into his business and told him to lock the door.
The people also told Choi that there was a shooter who had multiple rounds of ammunition on him so he could reload. Choi said he believes the shooting took place at a dance club.
Police are scouring CCTV for more information that might help identify the attacker. The FBI is also involved in the manhunt.
Second crime scene could be related to mass shooting
Investigators are looking into a potential link at another dance hall in the nearby area of Alhambra.
Sheriff Luna said a male Asian suspect walked into the second dance hall with a gun about 20 minutes after the mass shooting in Monterey Park.
"Some individuals wrestled the firearm away from him and that individual took off," Luna said.
The wanted poster issued over the dance studio shooting confirmed the same suspect was believed to have been involved in "an incident" at Alhambra.
Nobody was injured at the second location and police now have the weapon that was seized, but Luna would not elaborate on what kind of gun it is or if it was used in the mass shooting.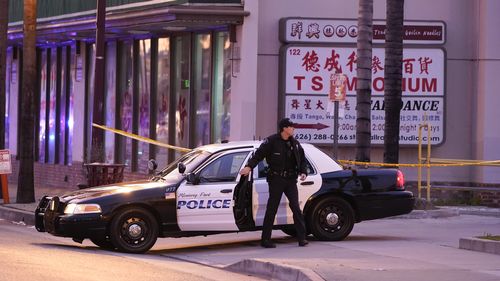 "Different weapons have been described... There are multiple leads that we are following," Luna said.
A white cargo van was seen leaving the Alhambra location, but authorities do not know if it is connected.
Monterey Park community reeling after attack
The Monterey Park community had been celebrating the Lunar New Year and the city is known for its annual festival. In previous years it had attracted crowds of up to 100,000 people.
About 65 per cent of Monterey Park's residents are of Asian descent, according to census data.
Earlier in the day, thousands of people attended the festival. Tomorrow's planned festival has been cancelled by authorities.
Congress member Judy Chu, who was once mayor of Monterey Park, said it was a horrific situation.
"I can only imagine the terror, pain and anxiety that they (the victims and families) feel," she said.
"It is horrible that such a thing could occur at a time of .celebration"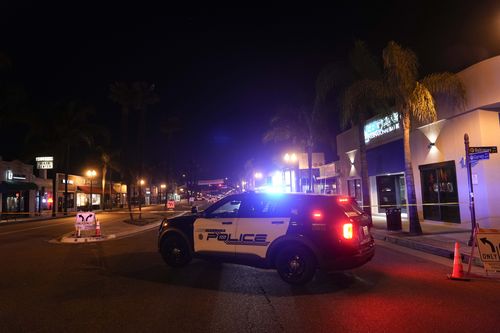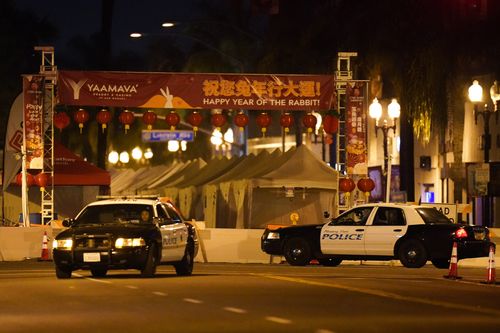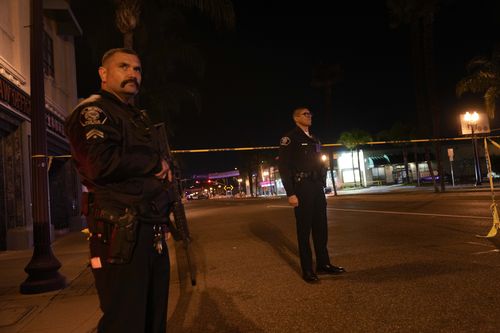 "To have this tragedy occur on Lunar New Year weekend, makes this especially painful," Alhambra Mayor Sasha Renée Pérez tweeted.
"Monterey Park is home to one of the largest #AAPI communities in the country. This is a time when residents should be celebrating with family, friends and loved ones - not fearing gun violence."
California Governor Gavin Newsom said he was monitoring the situation closely.
US President Joe Biden was briefed on the situation by Homeland Security Adviser Elizabeth Sherwood-Randall.
"The President has been briefed by the Homeland Security Advisor on the mass shooting in Monterey Park. He directed her to make sure that the FBI is providing full support to local authorities, and to update him regularly today as more details are known," a White House statement said.
This attack is the fifth mass shooting in the US this month and the deadliest since 21 people were killed in a school in Uvalde, Texas, according to The Associated Press/USA Today database on mass killings in the US.