Alice Springs mayor calls for federal intervention on crime crisis
| 24.01,23. 12:52 PM |
Alice Springs mayor calls for federal intervention on crime crisis
An embattled mayor has warned "there will be no Alice Springs left" if the federal government does not step in to address the Northern Territory town's crime crisis.
Matt Paterson said "senseless and destructive behaviour" was a continual problem in Alice Springs.
"The flavour of the month right now is edged weapons, but before that it was ram-raids of buildings," he told Today.
"We have seen many businesses broken into and smashed up."
Paterson has called for federal intervention to help with policing, involving the AFP or even the military.
He acknowledged there were plans in place for "generational change" in tackling the roots of the crisis, but said "immediate peace" was also needed.
Last year, the territory government ran a policing operation which saw 40 extra officers on the ground in Alice Springs.
"What that did, it had a positive effect for the community," Paterson said.
"There was a perception of safety and visual presence of police. We need that back."
The problem, he said, was one of resources - the NT government and NT Police did not have the ability to make such a program sustainable in the long-term.
Paterson also called on the government to reinstate the Stronger Futures legislation, which was lifted in the middle of last year.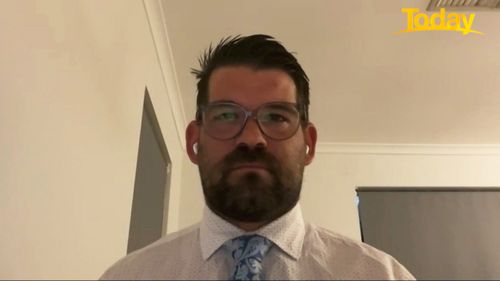 A number of Indigenous camps in the town weren't able to access alcohol under that legislation, but Paterson claimed crime had increased since the legislation was removed.
"I think that more people that do understand the complexities that we face in Alice Springs, the better," he said.
"It needs to get better. We need help. As I said, people are leaving Alice Springs in droves.
"If we don't address it, there will be no Alice Springs left."
Opposition leader Peter Dutton has called on Prime Minister Anthony Albanese to visit Alice Springs with him, comparing the situation to a "natural disaster".
Dutton said he had spoken to Indigenous elders, business owners, and whistleblowing public servants who were "at breaking point".
"It's a law and order and crime problem and we want those kids to grow up in a safe environment, and the prime minister has the resources, has the ability, and should show the leadership to deal with this issue," he said.
He said it the issue was "beyond politics".
"This is a problem that's been years, decades in the making. There's goodwill on both sides to fix it," he said.
Government Services Minister Bill Shorten said the problem needed everybody working together.
"There's no doubt that parents don't feel safe, the kids don't feel safe. That's what really matters, making people feel safe," he said.
Albanese is reportedly travelling to Alice Springs in coming days.