Three taken to hospital after ski boat carrying eight capsizes on Victorian lake
| 03.02,23. 03:55 PM |
Three taken to hospital after ski boat carrying eight capsizes on Victorian lake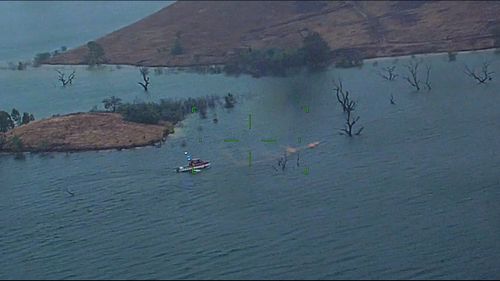 Five people had to be rescued from the middle of Lake Eildon after a boat capsized. (Victoria Police)
A group of eight joyriders had to work quickly to survive after their boat capsized and sunk while they weren't wearing life jackets in the middle of a Victorian lake amid wild weather yesterday evening.
Two of them clung to a tree in the middle of Lake Eildon for about an hour until they were rescued, while three swam to an island on the lake and three managed to swim about 300m to shore to raise the alarm.
Water police rescued the five still in the lake about 7pm, after it's believed the ski boat capsized on the lake in the state's north-east about 6pm while the boaters were not wearing life jackets.
A man in his 20s was treated for hypothermia at the scene then airlifted to the Royal Melbourne Hospital in a stable condition.
A man and woman in their 20s were taken to Northeast Health Wangaratta for observation.
Inspector James Dalton from the Water Police Squad has told 3AW all eight people were "extremely lucky" to have survived.

He said the 6.5 metre-long boat had sunk "like a stone" after it was hit by a wave when the weather turned.
He said the group had no time to put life jackets on once the water began filling the boat.
The inspector said he had not expected such a good outcome when he got the call about the incident last night.

"It sounded like it was going to be a dire result," he said.
The driver of the boat is assisting police investigating the incident, while the boat is yet to be retrieved from the bottom of the lake.