Warning for every driver who uses tolls
| 17.03,23. 08:53 AM |
Warning for every driver who
uses tolls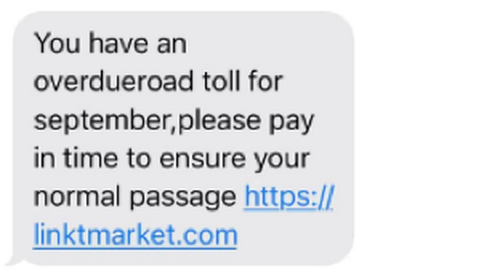 A new road toll scam has already cost Queenslanders over $500,000 in 2023, alarming the Australian Competition and Consumer Commission. (Linkt)
Drivers are being warned of a new road toll scam that's already cost Australians well in excess of half a million dollars.
The consumer watchdog has sounded the alert over the new phishing scam, which sends fake toll messages to drivers, tricking toll users into giving up personal and financial information.
In 2022 alone, there were 14,585 reports made to Scamwatch of fake road toll messages, resulting in $660,000 in losses.
The new scam sends drivers a range of fake messages, some claiming they have unpaid tolls, while others say the driver's Linkt toll account has been banned.
Some of the scam texts use a spoofing technique, making them appear to have been sent by the toll billing company.
Queenslanders lost more than $500,000 to phishing scams in January this year alone, according to the Australian Competition and Consumer Comisssion.
"So the ACCC has seen an increase of 469 per cent in reported losses from phishing scams in 2022," ACCC deputy chair Catriona Lowe said.
"We estimate that around 13 per cent of people report to Scamwatch so the losses and the victims of scams are much higher."
Experts are urging drivers to pay close attention to messages received, to avoid clicking on any in-text links and to report the texts to Scamwatch and Linkt.