Heatwave warning for parts of NSW, vulnerable people urged to take care
| 18.09,23. 12:33 PM |
Heatwave warning for parts of NSW, vulnerable people urged to take care
A severe heatwave warning has been issued for parts of New South Wales for the next three days, with authorities preparing for the risk of further bushfires.
The Bureau of Meteorology released the warning for parts of the South Coast and Illawarra districts in the state as the mercury soars.
"These temperatures are above average by around 10 to 15 degrees and persist for an unusually prolonged period for this time of year," the bureau said.
Vulnerable people including older residents, very young children, pregnant and breastfeeding women, and people with medical conditions are advised to take precautions.
They are being advised to find a place to keep cool such as their home, a library, a community centre or shopping mall.
Residents should close windows and draw binds, curtains or awnings early in the day to keep the heat out of their home.
The bureau said Batemans Bay, 280km south of Sydney, was one area likely to be impacted.
Emergency services are warning people to stay alert as the fire danger rating escalates across NSW.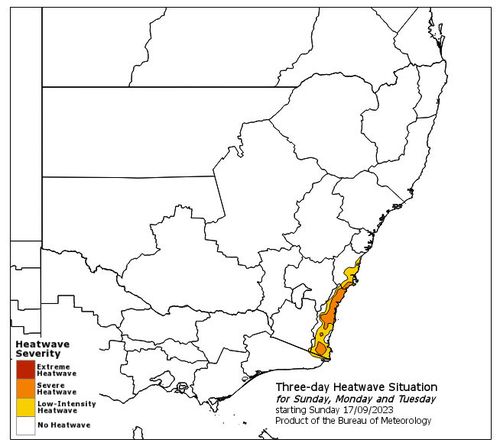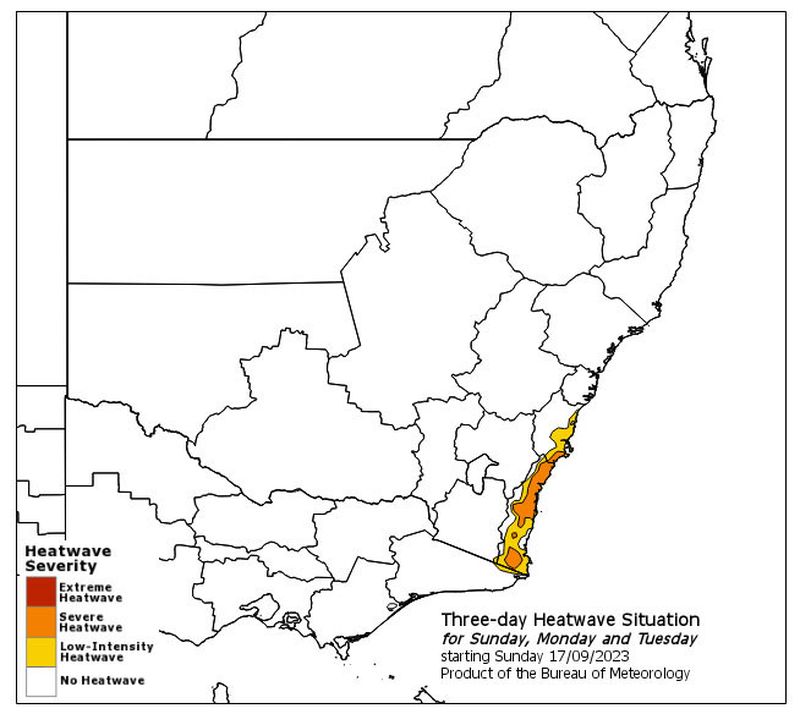 Rural Fire Service Commissioner Bob Rogers told Today this morning the extreme weather threatened a "difficult" next couple of days.
"We are in for warm days today, elevating further tomorrow and Wednesday and then after Thursday it will start to back off.
"We will have a few difficult days and we need the community to be vigilant. We will obviously do everything that we can to make sure we can suppress fires quickly."
He said as of today, NSW had 54 fire incidents but only three were not being contained.
A heatwave is defined as three consecutive days and nights for a particular location of extreme warmth that may affect people's health.
Temperatures began rising into the high twenties and thirties on Saturday.
Conditions are forecast to ease by Wednesday when a cold front should return conditions to near average.