More than 50 firefighters battle service station fire in Sydney
| 21.09,23. 07:05 AM |
More than 50 firefighters battle service station fire in Sydney
More than 50 firefighters have been called to a service station blaze at Fairfield in Sydney's west.
About 7pm on Wednesday, Fire and Rescue NSW said there were 20 fire trucks on Hamilton Road as crews battled the fire, which broke out about half an hour earlier.
"Numerous gas cylinders venting and on fire," FRNSW said.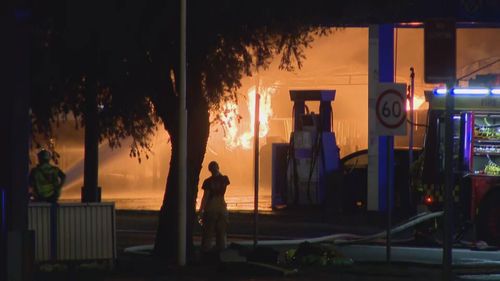 "Local evacuations are in place and currently no injuries reported."
Seventeen trucks were on the scene along with the 50 firefighters.
Duty commander Paul Collis said gas cylinders tend to burn "very ferociously".
"Once they get hot, it spreads from one to another and the gas escapes quite violently, causing the fire to spread to the surrounding buildings," Collis said.
Firefighters were working to extinguish the cylinders as well as protect the service station from being burnt down.
Several houses nearby were evacuated as crews also tried to keep those buildings safe.
"It's going to be an ongoing incident with the hazardous materials," Collis said.
Collis said, as of Wednesday night, there had been no air quality issues for residents.
"It's a complicated incident with a lot of things going on," he said.
Police, who were also on scene to coordinate the emergency response, said there were no reports of injuries.