Two men charged over shooting murder of Bondi kingpin
| 21.09,23. 07:14 AM |
Two men charged over shooting murder of Bondi kingpin
The crime scene at the Bondi apartment. (Kate Geraghty)
Two men have been charged over the alleged shooting murder of Sydney kingpin Alen Moradian.
Moradian, 48, was gunned down in the car park of his apartment block in Bondi Junction in June.
Police located a burnt-out Porsche in Bondi Junction and a burnt-out Holden Commodore in Zetland a short time after the shooting.
This morning, two months on, a 42-year-old man was arrested in Sydney's south.
He was taken to Sutherland Police Station where he was charged with murder and refused bail.
He later faced Sutherland Local Court.
A 31-year-old man was also arrested on Wednesday in Moorebank, in the city's west, and charged with murder.
He faced Liverpool Local Court.
"Police will allege the older man instigated the fatal shooting, whilst the younger man helped coordinate it," NSW Police said in a statement.
Investigations are continuing.
Police established Task Force Magnus in July to "target and disrupt" gun-related and violent crime as well as investigate links between organised criminal activity in Sydney.
The fatal shooting of Moradian was investigated by the task force.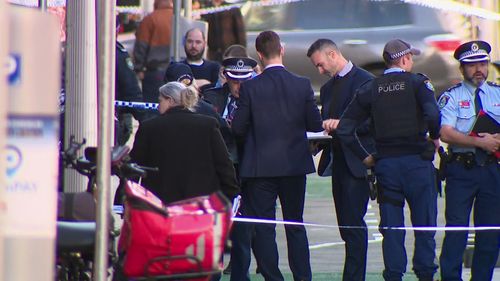 Detective Superintendent Jason Weinstein said today's arrests will have "significant" ramifications for the organised crime world in NSW, Australia and offshore.
He warned any of the gangland members who are considering seeking retribution to "think again".